The removal of landmines and explosive remnants of war (ERWs) is essential to ensuring a safe and prosperous life for the civilian population in Hudaydah.
Through Security Council Resolution 2643 (2022) - UNMHA is mandated, among other priorities, to oversee mine action operations in Hudaydah governorate.
UNMHA is continually reinforcing its support to Mine Action in Hudaydah and in April 2022, following an agreement with UNDP, the Mission deployed a Mine Action Adviser to Hudaydah and has taken significant steps to coordinate mine action initiatives across the governorate.
Mine Action Portfolio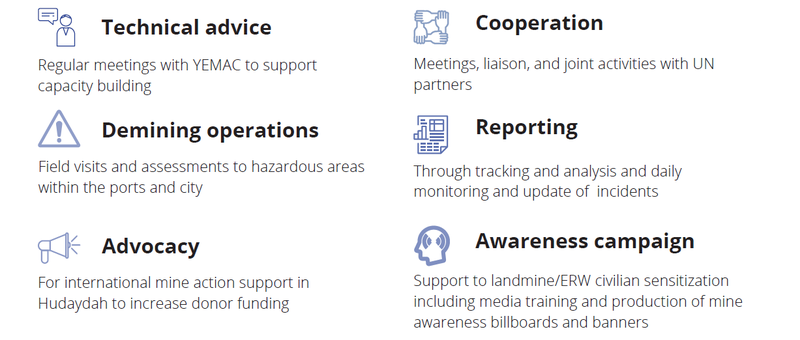 Impact of Landmines and ERW on Civilians in Hudaydah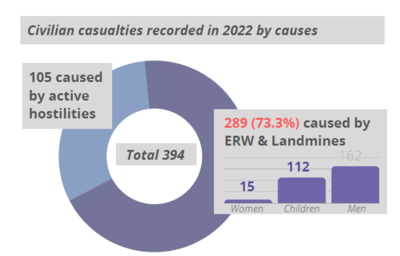 In Hudaydah Governorate, the Mission recorded 111 landmines and ERW-related casualties in 2021 with an increase to 289 in 2022, or a 160 per cent year-on-year increase. Similarly, the number of casualties among women and children went up. In particular, the number of children killed increased by over 100 per cent and the number of children injured increased by 150 per cent, taking up 30 per cent of a total number of civilian injuries recorded in 2022.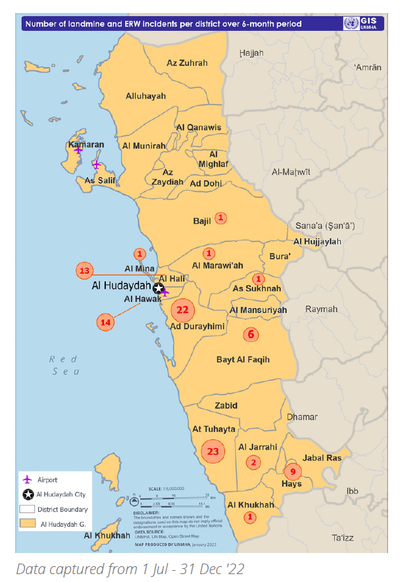 In 2022, a total of 394 civilian casualties, resulting from active hostilities and landmines or ERW were recorded by the Mission in the governorate. The number of casualties attributed to landmines and ERW incidents is 289, or 73.3 per cent of the total. 112 of these casualties were children, while 15 were women. In the last 6 months of 2022, UNMHA recorded the majority of ERW and landmine incidents along the lower-laying coastal areas of Hudaydah Governorate. Many incidents recorded are related to farming activities, when farmers access their land for agricultural purposes or when herding sheep, goats, and cattle to grazing. During major holidays and winter months, there was a substantial increase in visitors to Hudaydah to make use of the beaches and to get away from the cold climate in the mountains. These visitors accessed areas that were inaccessible due to the conflict without knowledge of where the hazardous areas were located. Al Hali and Al Hawak districts in Hudaydah city are busy areas located near the port which explains the substantial number of incidents recorded for these two districts, relative to their size.
*Numbers of civilian casualties are as reported by multiple sources and have not been independently verified by UNMHA.
Read UNMHA's latest Mine Action Update below.

august_mine_action_update_final_en.pdf

july_mine_action_update_final_en.pdf

june_mine_action_update_final_en.pdf

may_mine_action_update_final.pdf

april_mine_action_update_en.pdf

march_unmha_mine_action_update_en.pdf

feb_unmha_mine_action_update_en.pdf